Pocket Irrigation & Reduction
 Our Victoria periodontist uses pocket irrigation and pocket reduction surgery to treat periodontal disease and help restore good oral health to our patients at Dr. Todd Jones Periodontics and Implant Dentistry.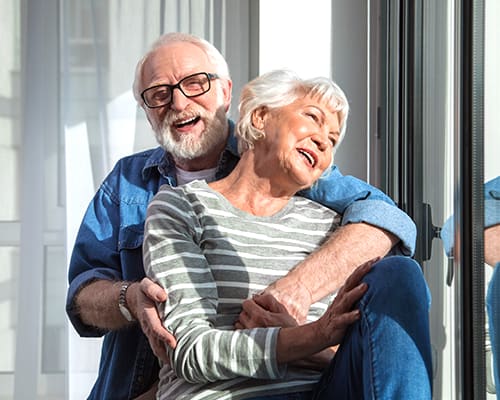 What are Pocket Irrigation & Pocket Reduction?
Pocket irrigation aims to cleanse plaque from the interdental (between teeth) and subgingival (under the gumline) regions of the mouth in order to prevent the colonization of harmful oral bacteria. This procedure is also used to deliver antibacterials to the subgingival areas.
Pocket reduction surgery (also known as gingivectomy, osseous surgery and flap surgery) is a collective term for a series of several different surgeries aimed at gaining access to the roots of the teeth in order to remove bacteria and tartar (calculus).
Pocket Irrigation
Pocket irrigation, or oral irrigation, is used for several preventative purposes. This procedure may be performed as part of a professional dental cleaning, or at home with a specially modified oral irrigator.
Pocket irrigation can help to keep gums healthy by blasting plaque, food particles and other debris from between the teeth, to keep the gum pockets cleaner and shallower, and helping the gums to remain healthy.
This treatment can also help to treat bad breath and prevent periodontal disease by flushing out harmful bacteria and food particles from both above and below the gumline.
Antimicrobial substances can be combined with water, or used as a stand-alone treatment for successful pocket irrigation.
The Pocket Irrigation Process
Following pocket reduction surgery an antimicrobial agent may be applied using an oral irrigator to help reduce harmful oral bacteria which may still remain in the pockets.
During a deep cleaning procedure, a pocket irrigator may be used after scaling and root planing to cleanse the pockets with or without an antimicrobial agent to help reduce subgingival oral bacteria.
Pocket irrigation can be performed at home as part of the daily oral routine using a water jet or water pick.
Flushing the interdental area with water is less harmful to soft tissue than dental floss, but should not be used as a substitute for professional dental cleaning.
Pocket Reduction Surgery
Pocket reduction surgery is a common periodontal procedure which has been proven effective at eliminating bacteria, reducing inflammation and saving teeth. 
This treatment can help to reduce bacterial spread, thus reducing the risk of secondary infections as well as halting bone loss caused by the body's chronic inflammatory response.
Pocket reduction surgery can make at-home oral hygiene more effective, and may give you a healthy looking smile. 
The Pocket Reduction Surgery Process
The gums will be gently pulled back and bacteria and tartar will be eliminated. Scaling and root planing will generally be required to fully remove the tartar from the surface of the tooth root. If the root is not completely smooth, a planing procedure will be performed to ensure that when the gums heal, they will not reattach to rough or uneven surfaces.

An antimicrobial liquid will be used to eliminate any remaining bacteria and promote healing. The gum is then sutured with tiny stitches that are left in place for 5-10 days.